Vietnam Population 2019
96,208,984
On the eastern tip of the Indochina peninsula in southeast Asia, Vietnam is one of the larger and more densely populated countries in the region. Confirmed population figures are hard to obtain, but an estimate puts the Vietnam population in 2019 at 96.20 million, up from the 2012 estimate of 91.5 million and this figure would make the country the 15th most populous on the planet.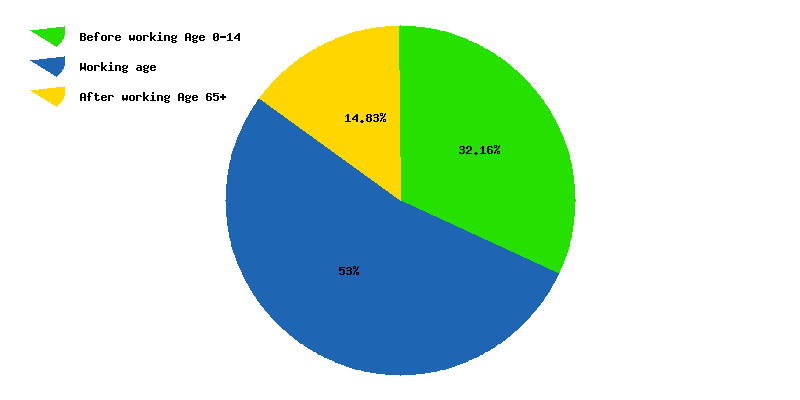 Chart working age in Vietnam

Vietnam Area and Population Density
In comparison, Vietnam has a small surface area, and at 331,210 square kilometers (128,565 square miles), this is only the world's 65th largest in terms of landmass alone.
Those two sets of figures would suggest a densely populated landscape and that is the case to an extent. For every square kilometer of land, there is an average of 291.33 people. That number converts to 112.5 individuals per square mile and overall, this becomes the 46th most densely populated country on earth.
Largest Cities in Vietnam
Vietnam has 5 cities with populations over one million, the largest of which is Ho Chi Minh City with a population of 8,636,899. The city of Ha Noi is a close second with 7,781,631 people residing there. The remaining 3 cities with substantial populations are Hai Phong, Da Nang, and Can Tho.
Vietnam Demographics
The CIA World Factbook has also produced some interesting figures in relation to life expectancy and these stand at relatively healthy levels. The organization claims that in 2011, those figures stood at 71.33 years overall, which could be divided between males at 68.52 years and females at 74.33 years.
This is arguably one of the most diverse countries on earth when it comes to ethnicity splits and in fact, the Vietnamese government recognizes no less than 54 ethnic groups within the country. The World Factbook gives us a breakdown of Kinh (Viet) at 85.7%, Tay 1.9%, Thai 1.8%, Muong 1.5%, Khmer 1.5%, Mong 1.2%, Nung 1.1%, Hoa 1%, other ethnicities 4.3%.
Vietnam Religion, Economy and Politics
In terms of religious preferences among the population of Vietnam in the World Factbook, we see Buddhists at 7.9%, Catholic 6.6%, Hoa Hao 1.7%, Cao Dai 0.9%, Protestant 0.9%, Muslim 0.1%, no preferred religion 81.8%.
The World Happiness Report shows a ranking of 95, with a rating of 5.1 in terms of overall happiness.
In terms of health care and access to clean drinking water and improved sanitation facilities, 7.1% of the GDP is spent in healthcare, resulting in .82 professional physicians available per 1,000 residents and 2.6 beds available in healthcare institutions per 1,000 individuals. When we examine the access to drinking water, 97.6% of the population has improved access, while only 78% have improved access to improved sanitation facilities. 94.5% of the population aged over 15 is literate.
Vietnam Population History
In the absence of any confirmed figures from within the country itself, it is necessary to turn to UN estimates to gauge how the population of Vietnam has been developing over the years.
Back in 1950, the organization claimed that there were 28,264,000 people living here and just five years later in 1955, those numbers had swelled significantly to 31,329,000.
Vietnam Population Growth
Further consistent growth followed, even through the long years of the Vietnam War which you may have been assumed to have a negative sort of impact on the population of Vietnam. In fact, growth continued at a similar level throughout the second half of the 1900's and has continued further to the point where the Vietnam population of 2014 stands at just short of 93 million.
From the years of 1955 to 1990, Vietnam enjoyed positive yearly population changes of over 2% - even as much as 3% in some years. However, since that time, the increase percentage has fallen to just below a full 1%.
Vietnam Population Projections
The growth Vietnam has seen in the recent past is expected to continue, however, at an increasingly slower rate. By 2035, the population will be growing half as quickly as it is today. It is projected that the Vietnam population will break 100 million by 2022.
Share by Lực Sơn